CT Foundation Replacement and Core Testing
Newcity Builders is a State of Connecticut Capital Region Council of Governments (CRCOG) Approved Crumbling Foundation Replacement Contractor and Core Testing Contractor.
Crumbling Foundation Repair in CT
The epidemic of crumbling foundations in Eastern Connecticut is a real and serious crisis. I have investigated multiple homes with structurally unsound foundations and have learned that this problematic issue spans many decades, towns and varies in its severity. The one constant is that the one solution to this ever-evolving saga is total foundation replacement. If your home has foundation walls that have severe cracks in them or are crumbling, chances are the footings and slabs are failing as well.
As Northeastern Connecticut's premier home builder, Newcity Builders can replace an existing foundation that has been determined to be structurally unsound. With over 20 years of experience in the construction and new home building fields and a Civil Engineering degree with concentrations in Structural Engineering and Construction Management, Newcity Builders can safely and efficiently replace any deteriorating foundation. A new foundation will not only outperform your existing crumbling foundation, but updated waterproofing and drainage solutions will ensure a dry basement.
If you are unsure whether your home's foundation may be affected, concrete core sampling will determine the exact chemical composition of the concrete in your foundation. Newcity Builders will take a core sample from your foundation, send it to a nationally accredited testing laboratory, and provide you with a detailed report explaining the composition of your home's foundation. This total procedure is now 50% financially reimbursable through the State of Connecticut. Call Newcity Builders to (860 – 919 – 5619) to schedule an appointment for core samples to be taken.
Contact Newcity Builders for a consultation about foundation replacement and concrete core testing.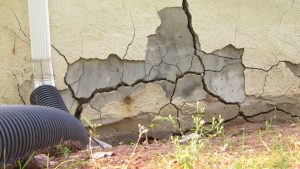 FAQ's for Foundation Replacement
What does the foundation replacement cost?
There are many factors that will play a role in the cost of foundation replacement. Some of these are the size of the house, the complexity of the house's design, whether or not there are sidewalks, patios, decks and/or porches that have to be demolished and then rebuilt. Extensive landscaping and driveway replacement also plays a role in the overall cost of the project. Estimates can range from $100,000 to $200,000 depending on these previously mentioned factors.
How long does the replacement take?
From the time the work commences until the project is completed is typically 2 months. Just like the cost, the duration of the project is determined not only by the house size and style, but also the exterior amenities that have to be demolished and then rebuilt.
Can I stay in my home while my foundation is being replaced?
Unfortunately, the answer is no. While the house is being temporarily supported by cribbing and steel beams, it would be unsafe for people to occupy the house. Not to mention all utilities will have to be disconnected (septic, water, electricity, etc…) Some local jurisdictions may allow you to live in a temporary structure (trailer or mobile home) on your property while your foundation is being replaced.
Do I have to move all my possessions out of my house?
The only part of the house that has to be free and clear of personal possessions in the basement. The main living levels of the house can contain your furniture, appliances, personal items, etc…
Can I do other renovations to my house at the same time that the foundation is being replaced?
Yes, there would be no better time to renovate a kitchen, bathroom, upgrade a heating system or add on a room while your house is already under construction. Newcity Builders can assist you with all types of home improvements, not only foundation replacement.
Are Newcity Builders and their subcontractors licensed and insured? Is this type of work monitored by the town?
Yes, Newcity Builders is a State of Connecticut license New Home Construction Contractor and Home Improvement Contractor that carries full insurance coverage and is accredited by the Better Business Bureau. All of Newcity Builder's subcontractors and suppliers are also licensed and insured. Any and all work is subject to the permitting process as set forth by each local jurisdiction. Periodic inspections will take place as well as a final inspection in which you will obtain a new Certificate of Occupancy.
Is financing available for a foundation replacement?
Newcity Builders works closely with Liberty Bank in Mansfield. Financing for foundation replacement is available depending on your current equity position in your home. Newcity Builders can help guide you through the lending process at Liberty Bank or other banking institution of your choice.
Do Newcity Builders perform core testing?
Yes, Newcity Builders has the capability to take one or multiple core samples from your home and have a licensed concrete testing lab analyze the samples to determine the composition of the concrete in your home's foundation. This service is now partially reimbursable by the State of CT.